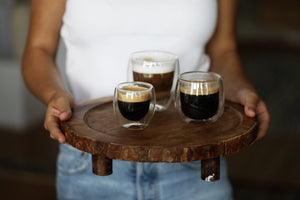 What is so special about cafesti?
Your One-Stop Shop, from Bean to Cup
Navigate to our subscriptions page, choose your preferred plan, register your personal details and activate the payment plan. Your package will be on its way!
Coffee machine & bean subscriptions are 12months. Coffee bean subscriptions are minimum 3 months.
For coffee machine & bean subscriptions, the first payment includes the first & last month installments.
There are no deposits for coffee bean subscriptions.
You may pause or defer your coffee bean deliveries. However, the monthly payments cannot be paused or deferred.
Coffee Machines may be returned within 7 days from the date of delivery. Please visit our "Return Policy Page" for further details.
Cafesti Coffee, Ltd. owns the machine until the final payment has been processed. After that, the machine is yours.
We will conduct a PDI (Pre-Delivery Inspection) and tuning of your Cafesti machine. Once delivered, unpack the machine, fill the water tank, load Cafesti beans, plug your unit & enjoy your coffee.
Should you need further assistance, please schedule a Cafesti service call here.
By default, coffee beans are delivered on a monthly basis.
Along with your Cafesti machine and beans, you will be receiving complimentary double walled thermo insulated cups, milk accessories* & a complimentary cleaning kit.

*Applicable to the BARISTA subscriptions
Shipping is free for all orders $35+
Our standard delivery time is 2-4 business days.
We endeavor to source our green coffee from farms and operators that meet the Fairtrade, Bio Certification or Rainforest Alliance.
On average, 1kg of coffee beans will yield 100– 120 cups, depending on the set up of your Cafesti unit.
Yes! your Cafesti machine will accommodate both regular and decaf options simultaneously. Please click here to download the user manual for detailed instructions (p19).
Cafesti coffee machines are fully automatic, bean-to-cup machines with the following key features:

• One touch espresso, long coffee, & cappuccino*
• Patented brew unit system with auto-clean function
• Built-in milk frother* unit with auto-clean function
• Intelligent PCBA control system with fault warning and information reminder function
• Accurate grinding system
• Adjustable height of coffee spout from 80mm to 115mm
• Adjustable coffee volume during extraction
• Adjustable coffee and milk* temperature

*BARISTA models
Please refer to your user manual first. If the issue persists, schedule a service call here, or use the chat option.